CGM First for Type 2 Diabetes Management
Professional continuous glucose monitoring (CGM) can be a valuable teaching tool for people with diabetes and has shown to help them reach their glycemic targets and promote positive health behavior change.* For healthcare professionals (HCPs), CGM data enables them to identify time in range, hyperglycemia and hypoglycemia patterns, and glucose trends allowing for a more individualized approach to assess, adjust, or initiate therapy. Also, the care team's job is streamlined because the CGM data are readily available allowing for more fluid conversations using shared decision-making. Professional CGM is covered by most insurances for persons with diabetes making it possible for clinics to use CGM first as part of their regular plan of care.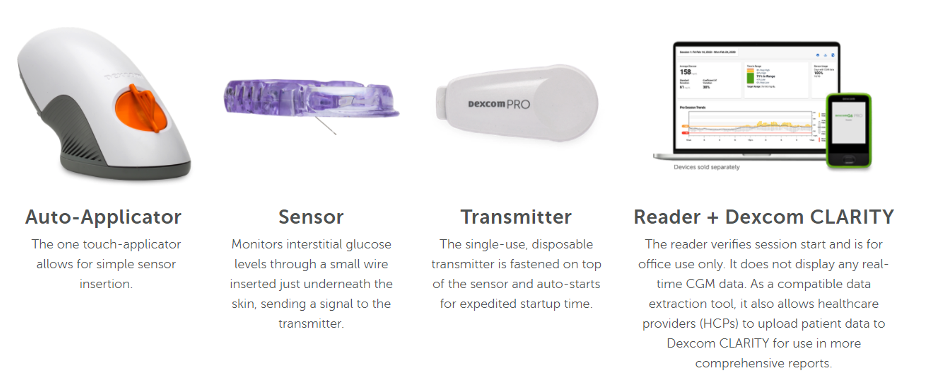 The Dexcom G6 Pro Continuous Glucose Monitoring System is the latest professional real-time CGM system created by Dexcom for HCPs. The person with diabetes can wear the Dexcom G6 Pro for up to 10 days in an unblinded or blinded mode. Regardless of the mode, data can be uploaded in Dexcom CLARITY to generate the Dexcom G6 Pro Report for retrospective discussions. In the unblinded mode, the person with diabetes can share glucose data with their HCP by using the CLARITY app.** From the data, people with diabetes can observe how food, stress, activity, medication, and other factors impact glucose levels prompting timely behavior change. The Dexcom G6 Pro enables a real-time feedback loop that empowers the person with diabetes through self-directed learning. After the sensor session, the HCP and the person with diabetes can review Dexcom CLARITY reports and create an individualized treatment plan.  Reviewing the reports is important because "you can't improve what you can't measure!" 
Listen to Aimée José, RN, CDCES, from Steady Health (now Carbon Health) describe her experience of starting CGM at the initial diabetes visit that sets everyone up for success. She shares that when using CGM first her patients are more prepared and look forward to their visits. 
*Longo R. and Sperling S. Personal Versus Professional Continuous Glucose Monitoring: When to Use Which on Whom. Diabetes Spectrum. 2019. 32(3):183-193.
**Smart device required for unblinded mode and are sold separately. *For a list of compatible devices visit www.Dexcom.com/compatibility
LBL022569 Rev001